Rattan Garden Furniture Swindon
Enhance the look and feel of your Swindon home with our rattan garden furniture. The perfect way to relax with family and friends, our rattan garden furniture is extremely comfortable. The versatile nature of the materials we use means our products both look great and perform to the highest standards. The sleek lines and curved edges we create radiate a modern, elegant look.
Rattan garden furniture is extremely durable, meaning it can be used throughout the year as it is resistant to an array of weather conditions. Adapting to extremes in temperature well, our hardwearing products will never compromise on their quality over time. As a result, our rattan garden furniture will rarely need replacing as it will continue to hold its shapes for years to come.
Make a stunning statement in your Swindon property with our beautiful, customisable products. Unique to your individual style, our rattan garden furniture can be finished with our colourful upholstery covers and cushions. Not only will this add a modern feel to your purchase, but it will also help to protect your suite against direct sunlight and rainfall. Our solutions are extremely practical.
Contact Us
What Is Rattan Garden Furniture?
Rattan garden furniture is becoming increasingly popular amongst Swindon homeowners. If you are looking to modernise your space, turn to our products that will instantly make your garden more inviting. If you love to host a party, our rattan garden furniture will provide a great spot for your guests to relax. They will sink into our luxurious suites that are designed for ultimate comfort.
The rattan plant is grown in and around the African, Asian and Australian regions. It is an incredibly flexible, versatile material that can be weaved into numerous shapes and styles. As a result, it makes for the perfect component in our rattan garden furniture as it is hardwearing and resistant. Close to the texture of bamboo, the layers of the plant can be peeled back to reveal the rattan spines.
There are different types of palm species, including single-stemmed and clustered. The materials for our rattan garden furniture are sourced sustainably, reducing our overall impact on the environment. The components in our innovative products are carefully considered to ensure the best quality for your Swindon home. You won't be disappointed in our market-leading products.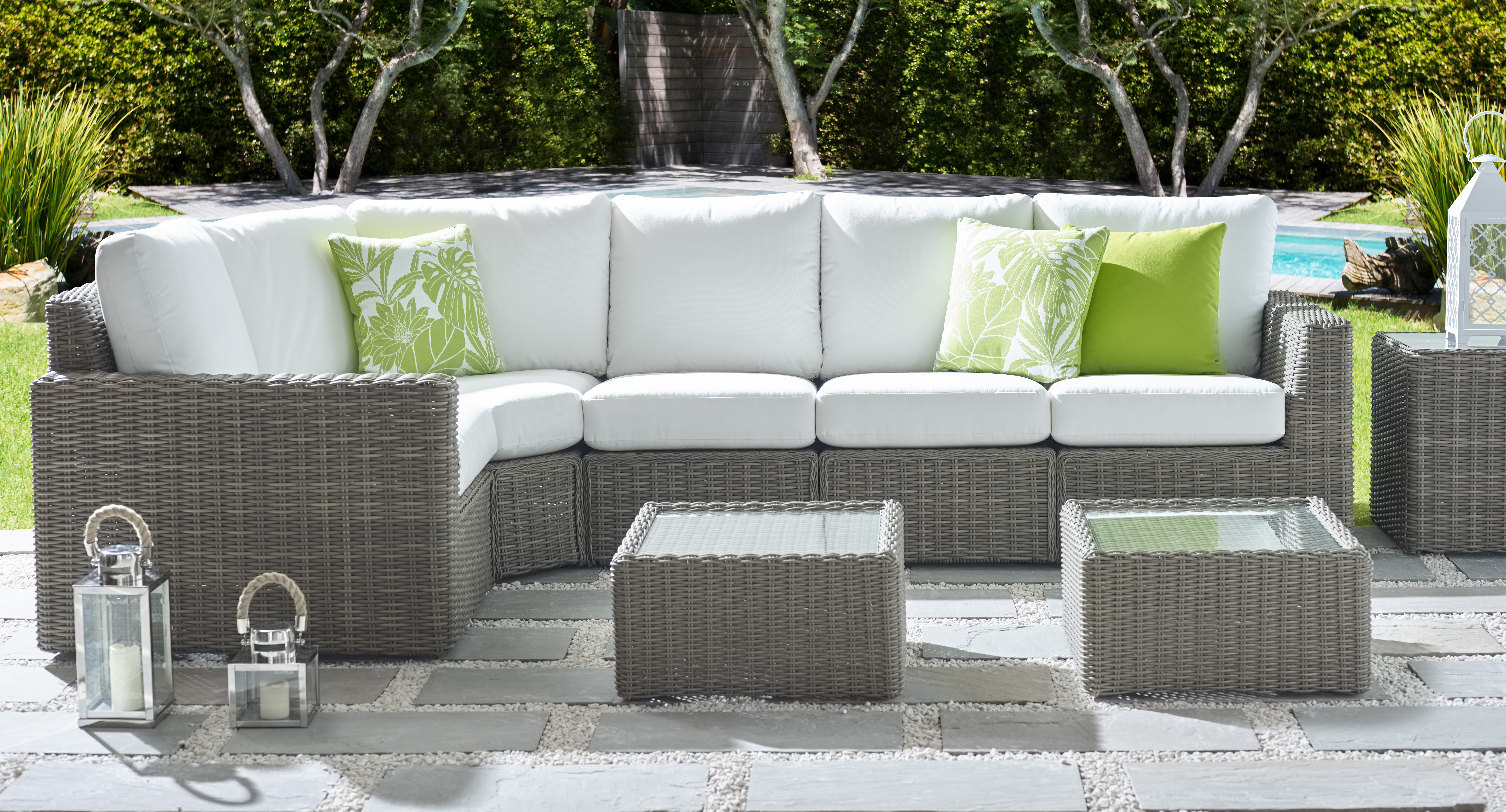 Rattan Garden Furniture Benefits
Durable
To keep up with the ever changing British weather, our rattan garden furniture is extremely durable. It can be left outside in all conditions as the materials we use are non-porous, meaning they won't collect excess rainwater or debris. Enjoy years of comfort in your Swindon home with our stunning products that won't disappoint on style or functionality. Enhance the look and feel of your space.
Quality Guaranteed
When buying rattan garden furniture from us, you are investing in some of the best quality products on the market. Ultimately, we want our armchairs and suites to be as comfortable as possible; that's why we put the measures in place to ensure that is the case. The curved wings of our chairs are the perfect place to rest your arms, while the foam wadded cushions will allow for ultimate relaxation.
Never Fades
Your rattan garden furniture will continue to look in the best condition for decades as it is resistant to strong UV rays. Keep up appearances in your Swindon home with our beautiful products that will not become damaged in direct sunlight. As a result, they can be left on your patio or courtyard in the hottest months without the fear that their appearance will be compromised in any way.
Customisable
Customise your new rattan garden furniture with our range of upholstery options. We have a range of coloured cushions and fabrics to choose from, making it easy for you to match your new suite with some of the existing aspects of your Swindon home. Work with our team of friendly experts to find the best suite to suit your unique style; we have a huge range of options available.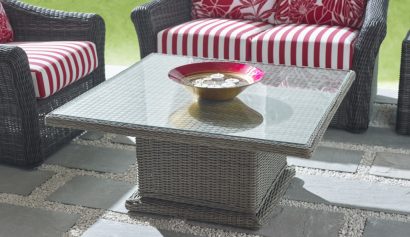 Rio
Non-porous and weather resistant, the Rio range of rattan garden furniture makes the ideal addition to any Swindon property. The dark weaved layers of rattan are both durable and radiate elegance. Our sofa suites also come with a glass topped table, the perfect place to rest your drinks.
The rattan garden furniture we provide will create a modern focal point in your home. Gather around our stylish products that will become the place to relax or dine at. The possibilities are endless with our versatile solutions that are incredibly lightweight and easy to manoeuvre.
Rattan Garden Furniture Prices Swindon
Transform your Swindon home with our rattan garden furniture suites. We have a range of styles to choose from; we guarantee you will be able to find a suite you love.
Please complete our online contact form if you have any further questions regarding our products, or visit us at our showroom. Alternatively, give us a call on 01793 509203.