Rattan Garden Furniture Salisbury
Rattan garden furniture is one of the hottest trends in the world of design and is gaining popularity for both indoors and outdoors use across the Salisbury area. It's elegant and stylish without compromising on durability.
One of the key benefits of investing in our rattan garden furniture is that it can withstand a range of different conditions without fading or becoming damaged. Breathe new life into your Salisbury garden with this range of rattan furniture. We offer a range of different styles, designs and colours that can match your existing furniture, architecture and personal preferences.
Rattan garden furniture is a cost-effective way to create a communal area in your Salisbury home. They don't just look good, they are comfortable to sit back and relax in. All the family can enjoy our Ratan garden furniture, whether it's a sofa or an armchair. Get in touch with us today to learn more about our products and their many benefits.
Contact Us
Benefits of Rattan Garden Furniture
Our rattan garden furniture is high quality because it has been made using premium grade materials derived from natural sources. They have been designed and crafted to be durable and long lasting, providing Salisbury customers with decades of comfort. This line of furniture has been designed to not be replaced, making them a sustainable investment.
Our rattan garden furniture can be left outside in the rain without you being concerned they will become damaged and tarnished. Lightweight and long lasting they are easy to manoeuvre around your garden, patio or decking space.
Not just long lasting, they are also comfortable and attractive. Rattan can be weaved together to create a number of different shapes. They look sleek and elegant and can be adapted to suit modern and traditional homes alike.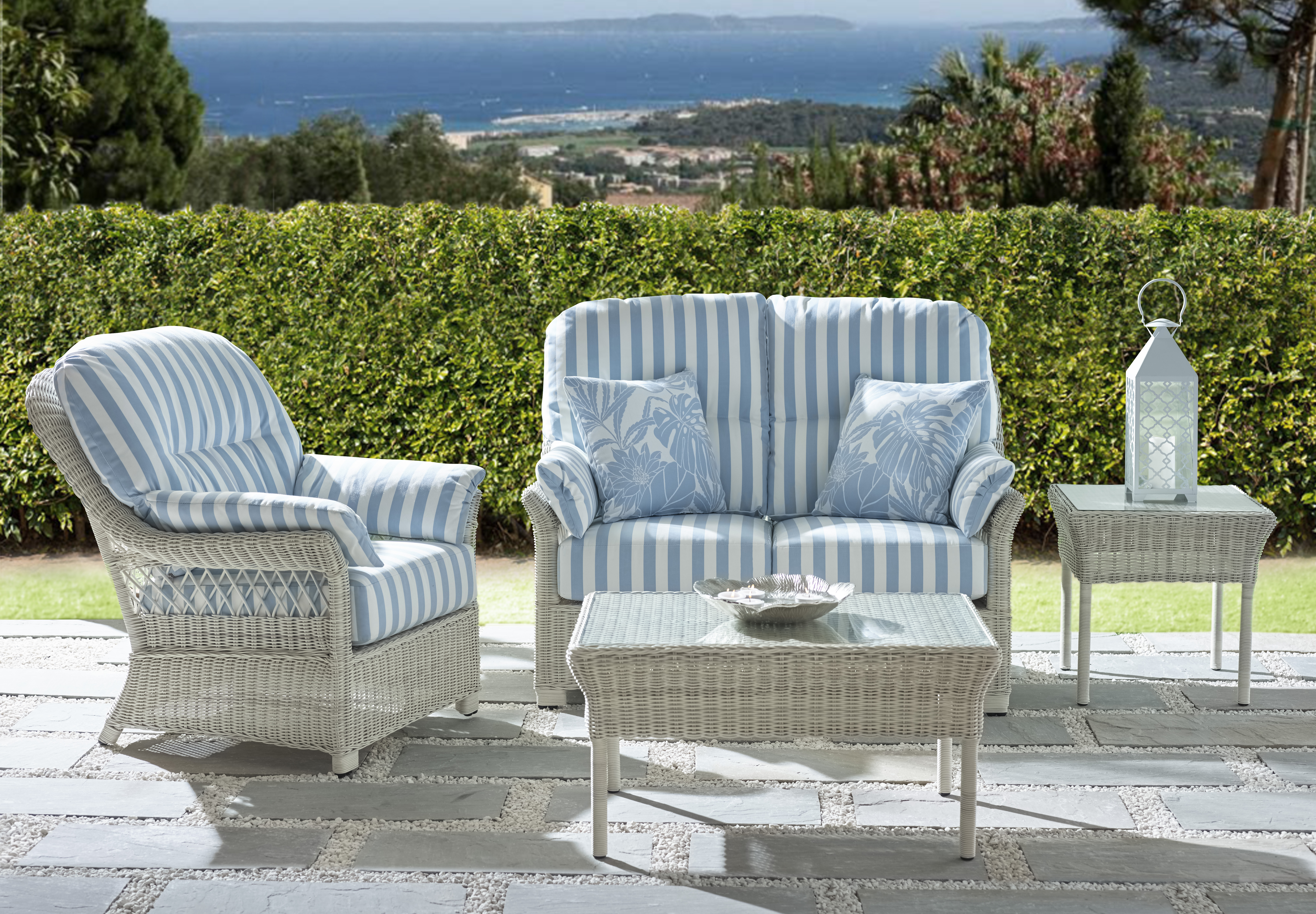 Why Choose Rattan Garden Furniture?
Durable and Weatherproof
Designed and manufactured using high grade materials, our range of rattan garden furniture are resilient and long lasting. This means they handle winds and light summer rain without you needing to be concerned about them. The high quality cane can be kept outside without splitting or warping, so you can be confident in your new furniture investment. If the weather takes a turn, this range is so lightweight you can easily move it out the way.
Rattan is a non porous material, which means it won't excess rainwater when left out in the light rain. Enjoy rattan garden furniture that will retain its shape and colour for many years to come. They make a fantastic and long lasting alternative to classic plastic garden furniture.
Rattan garden furniture is a UV resistant solution that can handle extreme sunshine. It therefore won't fade or split in the hot Salisbury weather. This range is a year round solution for your garden.
Sustainable
Our rattan garden furniture is a sustainable solution for Salisbury homeowners as it is made from premium materials. Furnishing your garden shouldn't cause damage to the planet. Derived from natural sources, tables, armchairs and sofas made from rattan is also long lasting so you won't need to replace them every year.
Rattan is inherently stain resistant as a material. If you spill anything on your new rattan outdoor furniture, it can be wiped off instantly without any risk of the material being stained. This is ideal if you have children, pets or are just messy eaters!
Customisable
One of the biggest benefits of furniture crafted from rattan is that it is available in a range of diverse colours, patterns and designs. Our entire range of premium quality fabrics are provided by our trusted manufacturers, and each supplier has a broad array of coverings for their own product lines. Browse the small selection of fabrics online, or come on down to our showroom to see, test and feel each fabric for yourself.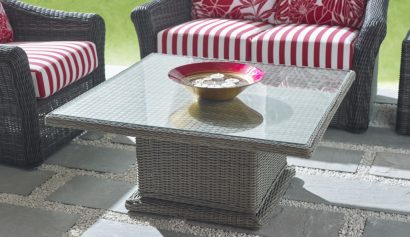 Rio
Our leading range of rattan garden furniture is The Rio. This range is durable and contemporary, featuring comfortable yet stylish sofas and tables that will please all the family. This stunning range of furniture comes with the option of adding coffee tables, side tables and footstools, allowing you to outfit your entire garden with all the necessary items. Functionality is at the forefront of this design. The table comes with glass countertops to make them extremely easy to wipe clean.
Rattan Garden Furniture Prices Salisbury
Think our rattan garden furniture would make a perfect addition to your Salisbury property? Get in touch with our team of friendly yet down to earth experts today!
You can get in touch with us via our online contact form, or give us a call on 01793 509 203. Our friendly team will be happy to discuss our durable cane furniture ranges and answer any queries you may have. We look forward to hearing from you soon!