Rattan Garden Furniture Newbury
Create the perfect outdoor area to socialise, relax and host parties when you invest in our stunning rattan garden furniture for Newbury homes. Crafted using durable materials that can handle the wear and tear of general life, you can use our cane furniture both inside and outside. You can also add a patterned upholstery cushion from our line.
Instantly transform your garden, patio or decking area with a piece from our line of rattan garden furniture. Lightweight yet durable, they have been specially designed and manufactured to withstand wet Newbury weather conditions, never absorbing any water. Because they are lightweight, you can easily move them in and out of your home, and around the garden area.
Rattan garden furniture is a sustainable alternative to classic plastic, lasting for longer in all weather conditions with less likelihood of falling apart. Enjoy tables, chairs and sofas that will deliver form and function for many years to come.
Contact Us
Why Choose Rattan Garden Furniture?
Despite being light and easy to move, our line of rattan garden furniture is extremely hard wearing. These strong designs can withstand strong winds and light summer rain, and the durable components of our tables and chairs mean are market leading. The woven rattan panels will not buckle or tarnish in extreme Newbury temperatures or direct sunlight. You can leave them in your garden all year round without worrying about the furniture becoming damaged.
Rattan is derived from a plant grown in parts of Asia, Africa and Australia which means it's a sustainable solution for your property. The material is inherently lightweight and malleable, it can be moulded to create a range of shapes and designs.
Why Choose Rattan Garden Furniture
Weatherproof
Our rattan garden furniture is non porous. This means it can be left outside in wet conditions without absorbing water, becoming rotted or tarnished. It's not just bad weather this range of furniture can cope with. They will stay protected from the warm summer weather and harsh UV rays. The bespoke colours won't fade in the sun or the rain.
Enhanced Comfort
Rattan garden furniture isn't just attractive and hard wearing, it's comfortable for the whole family. Whether you want sofas to relax on, tables to dine al fresco or seats to enjoy a sunset, we will have an option for you.
Many of our rattan garden furniture sets come with seat pad cushions and deep back cushions for extra comfort, and come with modern benefits such as being rainproof in case you're caught out by the Newbury weather! Plus if you do spill a drink or food on your cushions, these covers are removable and machine washable. This means they can handle the chaos of busy family life over the years.
Customisable Designs
It has never been easier to get the right rattan garden furniture for your Newbury home as it is with us. You can choose from a wide range of cane furniture, all of which come in different shapes, sizes and colours. All the armchairs and sofas can be customised with one of our colourful, patterned upholstery cushions. Get in touch to learn more about our customisation options.
Sustainable
Because our rattan garden furniture won't need to be replaced for many years to come, they are a sustainable solution because we know you care for the planet. This design will hold its shape for longer and handle all British weather conditions. Once you have invested in our garden furniture you won't need to purchase anything else for a while thanks to their durability.
Easily Movable Rattan Furniture
Our rattan garden furniture is sturdy and hard wearing, but also lightweight enough that you can easily move it around the Newbury garden. Because they are so light, you will be able to carry them in and out of your home if necessary or around your garden with ease.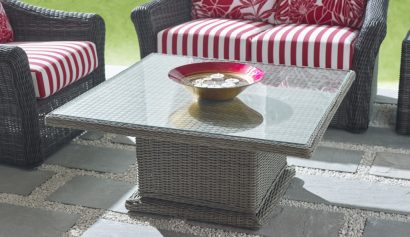 Rio
Our most popular range of rattan garden furniture is the Rio. There is a good reason it's so popular, it's thanks to the sheer versatility and unbeatable performance. This range offers form and function, allowing the whole family to sit back and relax.
Available in a number of shades and upholstery options, this durable set will easily complement your existing pieces, design preferences and lifestyle requirements. Browse our Rio range today.
Rattan Garden Furniture Prices Newbury
Upgrade your social life with our range of versatile rattan garden furniture. Available in a range of design, sizes and customisation options.
If you have any further questions for a member of our team, please give us a call on 01793 509203 or use our online contact form. We will be happy to offer more information on our range of products, prices and customisation options.