Rattan Garden Furniture Gloucester
Create the perfect place to socialise in your Gloucester home with our stunning rattan garden furniture suites. Made using woven rattan panels, our modern furniture will rarely show signs of wear, making them ideal for use outside. Complete your new purchase with our range of coloured upholstery cushions that both look great and are extremely comfortable. Take a look at our products.
Instantly transform your outdoor space with our rattan garden furniture. Lightweight and durable, they are designed to withstand harsh weather conditions, never absorbing any water. This makes them easy to transport too, so they can be placed in different parts of your Gloucester garden. Whatever your style, we have a rattan garden furniture suite to match. They are modern and weather resistant.
A sustainable alternative to other traditional materials like plastic, our rattan products are guaranteed to hold their shape for decades. As a result, they will provide Gloucester customers with years of relaxation and comfort. Make the most of the summer months with our beautiful products that have the ability to bring the whole family together. Find the right style to suit your home.
Contact Us
Why Choose Rattan Garden Furniture?
Despite being lightweight, our rattan garden furniture is extremely strong. Able to withstand strong winds and light rain, the durable components of our tables and chairs mean they are leaders in their field. The woven rattan panels will never buckle or tarnish in extreme temperatures or direct sunlight, meaning they are able to be left outside in varying seasons. See how they could enhance your home.
Rattan is a sustainable material derived from a plant grown in parts of Asia, Africa and Australia. Lightweight and malleable, it can be moulded into many forms. This is how we create our soft curves, thanks to the quality materials in our products. Designed to last for decades, rattan garden furniture will continue to look as good as new for years to come. It is the perfect investment for your Gloucester property.
Made using premium grade materials, our rattan garden furniture can be used to make a modern statement in your garden. The ideal spot to host your next party, our products will become the focal point of your garden or courtyard. Complete your new suite with a glass topped coffee table to place your drinks. The wipe clean surface makes our innovative products resistant to spills and stains.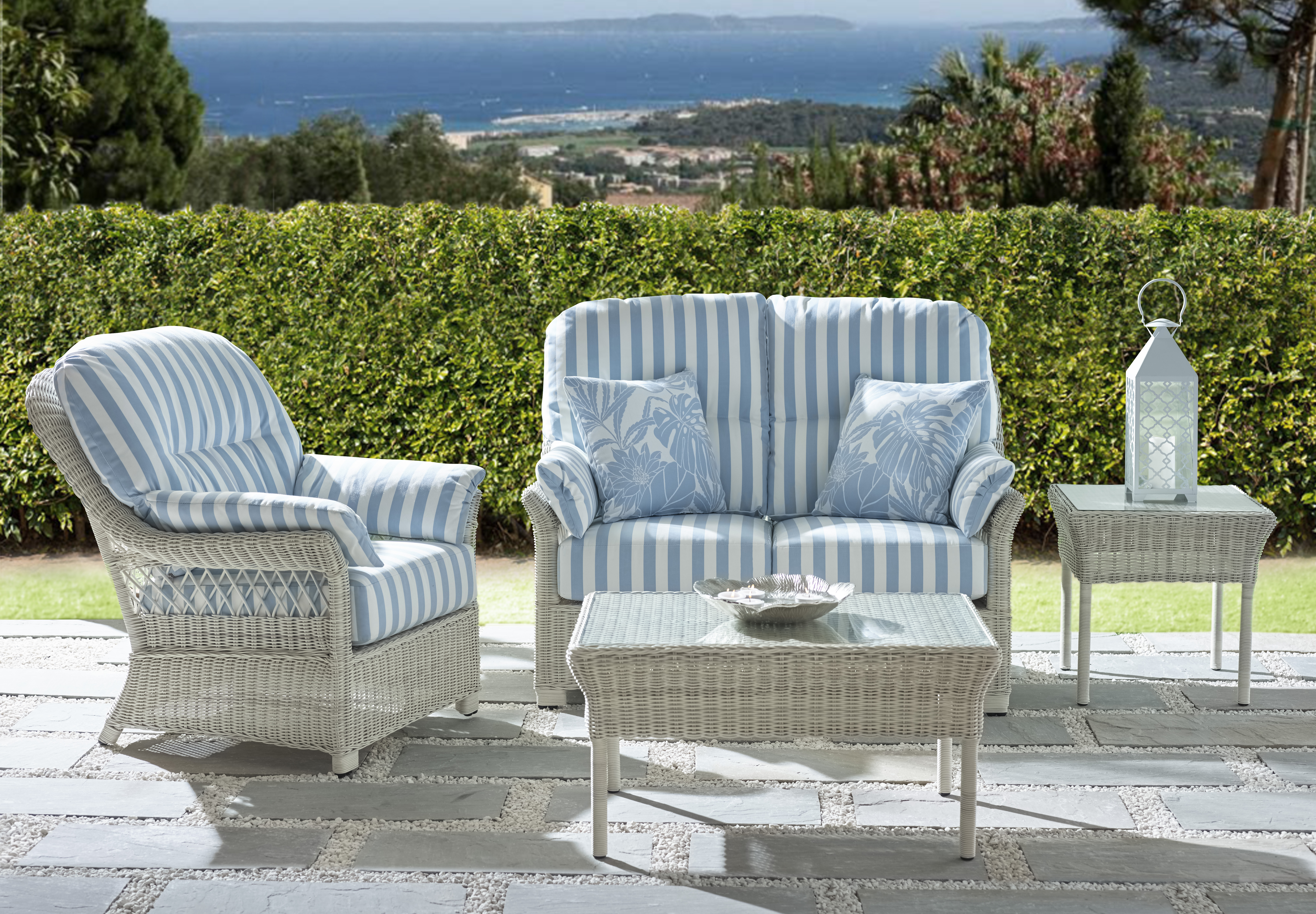 Rattan Garden Furniture Benefits
Non-Porous
Our rattan garden furniture is non-porous, meaning it will never begin to absorb water if it is left outside. Because it is extremely durable, it is resistant to a number of conditions, including direct sunlight as well as colder temperatures. As a result, the components inside our rattan garden furniture will never begin to rot or tarnish. Keep up appearances in your Gloucester property with our help.
Customisable
Make a statement in your Gloucester home with our stylish rattan garden furniture suites. Made using the latest materials and technology, they will provide years of comfort. In addition, our armchairs and sofas can be customised with our colourful upholstery cushions. Choose a fabric of your choice as well as the shade of your suite to complete the purchase. We have many options available.
Sustainable
Because our rattan garden furniture will rarely need to be replaced, this makes it a sustainable alternative to other materials such as plastic. Not only this, but it will hold its shape better, rarely showing any signs of wear and tear. A cost-effective addition to your Gloucester property, our stunning products will provide decades of use. Make the most of your outdoor space with us.
Lightweight
Our rattan garden furniture is extremely lightweight, meaning it can be moved to different areas of your garden with ease. However, once in place, the sturdy footings mean your new sofas and chairs will not move or rock. Stable and secure, they both look great whilst providing practicality, the perfect combination. Create a stunning entertaining space in your Gloucester garden with our products.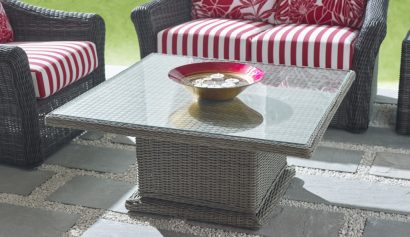 Rio
Explore our Rio range of outdoor rattan garden furniture. Available in a number of shades and upholstery options, this durable set will make a stunning feature in your garden. Gather family and friends around and enjoy ultimate relaxation.
Switch to our products today to start experiencing their unbeatable performance. Choose from our number of styles and pick a furniture set that complements some of the existing aspects of your property. We guarantee you will find something you love.
Rattan Garden Furniture Prices Gloucester
Upgrade the look and feel of your Gloucester property with our rattan garden furniture suites. To find out more, please complete our online contact form.
If you have any further questions for a member of our dedicated team, please give us a call on 01793 509203. We look forward to hearing from you soon.