Rattan Garden Furniture Cirencester
Enhance the look and feel of your Cirencester property with our bespoke rattan garden furniture. Easily customised with our range of upholstery options, our furniture makes the perfect addition to any home. Whatever your unique style may be, we are guaranteed to have stunning rattan garden furniture to match, thanks to our wide selection. Take a look at what we have to offer.
Rattan is a lightweight, durable material that can be moulded into almost any shape. Non-porous and weatherproof, it can be left outside in all conditions without the fear that it will absorb water. In addition to this, the rattan will continue to hold its shape for years, never beginning to tarnish or crack in direct sunlight. A sustainable alternative to plastic, rattan garden furniture will last for years.
The cost-effective option for any Cirencester home, our rattan garden furniture will make a beautiful statement on your patio or courtyard. Lightweight and easy to manoeuvre, it can easily be transported to different areas of your garden. Once in place, the sturdy footings mean the rattan garden furniture will not move or rock from side to side. Make them the statement of your home today.
Contact Us
Why Choose Rattan Garden Furniture?
Sustainable and affordable, rattan garden furniture will complement the style of any property in Cirencester. Available in an array of shades, from lighter naturals to dark mahogany, there really is a design for everyone. Customisable to suit your unique taste, our rattan garden furniture makes a great alternative to traditional plastic. With our suites, you will never have to worry about tarnishing.
Rattan is a natural material that is extremely easy to manipulate into a number of stunning forms. As a result, we are able to create beautifully curved edges and rounded arms with rattan that is designed to hold its shape for decades. Providing years of unbeatable performance, our durable rattan garden furniture suites will never begin to discolour over time. They will instead provide a lifetime of wear.
Low maintenance in nature, rattan garden furniture will rarely show signs of wear. This is because it is a non-porous material, resistant to strong winds and light rain. In fact, a light spritz of water occasionally is actually good for your rattan furniture, giving it a bit of needed hydration. Effectively looking after themselves, our outdoor suites will rarely need any interaction to keep it looking their best.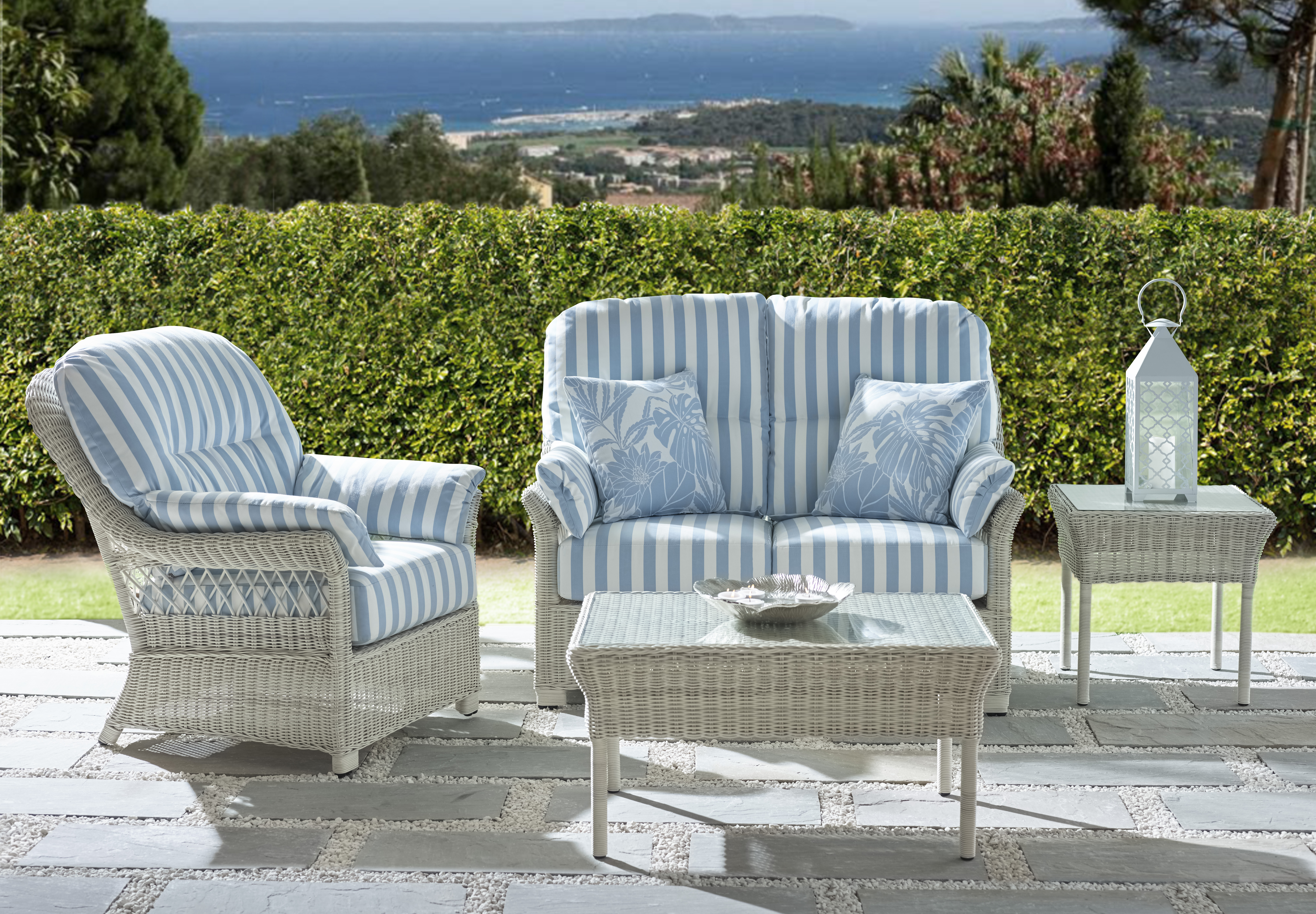 Rattan Garden Furniture Benefits
Modern
At the forefront of interior design trends, rattan garden furniture will instantly modernise your Cirencester property. The perfect focal point for your outside space, it will continue to provide you with years of enjoyment. It is the ideal way of bringing a bit of your indoor living space outside, creating a comfortable area for you to enjoy with friends and family. Explore our beautiful range.
Bespoke
Work with our team of expert designers to choose the best rattan garden furniture for your Cirencester home. Best of all, we offer a selection of stunning upholstery options from plain colours to statement patterns. As well as this, decide the colour of your rattan garden furniture that is available in a selection of shades. Match your new feature with some of the existing aspects of your Cirencester home.
Weatherproof
Non-porous and weather resistant, our rattan garden furniture can be left outside in the summer months without the fear that it will tarnish. As a result, you won't need to find space to store it away as it can be a permanent feature of your Cirencester property. In addition to this, it is resistant to harsh UV rays, meaning that even in direct sunlight, the woven rattan panels will never fade.
Premium Quality
Our rattan garden furniture is made from premium grade materials to ensure the best quality for your Cirencester home. Every element in our furniture suites is carefully considered to ensure your new feature lasts for decades. To see our bespoke rattan garden furniture in person, please come down to our showroom, and a member of the team will talk you through our stunning collection.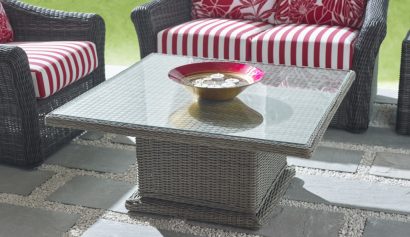 Rio
Rio is one of our most popular ranges of rattan garden furniture. Available in a range of configurations and shades, it will make a beautiful addition to any Cirencester property. Make our products the focal point of your next social event.
Complete your rattan garden furniture suite with a glass-topped coffee table. The perfect place to rest your books or a drink, it is wipe clean and resistant to stains. Sturdy yet lightweight, it can easily be moved into any position you desire.
Rattan Garden Furniture Prices Cirencester
Add a modern touch to your Cirencester property with our stunning rattan garden furniture. Complete our online contact form to find out more.
If you have any further questions for our team of experts, please give us a call on 01793 509 203. We look forward to hearing from you soon!