Rattan Garden Furniture Bristol
Create a communal area in your Bristol garden with our beautiful rattan garden furniture. Durable and lightweight, our stunning selection of suites are guaranteed to impress your family and friends. The affordable way to dress up your Bristol property, they are available in a wide range of styles and colourways to suit your taste. Visit our Swindon showroom today to start gathering your ideas.
Revolutionary in design, our rattan garden furniture suites are guaranteed to provide you with decades worth of use. Unlike traditional plastic outdoor furniture, our sustainable alternatives will rarely show any signs of persistent wear and tear. Instead, the rattan will continue to keep its shape and colour for years, creating the ideal space to relax or unwind after a long day at work.
Sink right into our furniture suites that provide ultimate levels of comfort. The quality materials we use are designed to withstand light winds and rain, looking their best even years after they were first out in your outside space. The rattan garden furniture we sell sits on supported bases to make sure they remain level on a number of surfaces, including courtyard and patio spaces. Choose our products for your Bristol property.
Contact Us
Why Choose Rattan Garden Furniture?
They great thing about our rattan garden furniture is just how durable it is. It can withstand a multitude of changing weather conditions with ease, which is never reflected in the quality or appearance of the product. Rattan is a natural material sourced sustainably and used for many different purposes thanks to its versatile nature. Use our rattan garden furniture to modernise your space.
Looking to do up your garden in Bristol but don't know where to start? Choose our modern rattan furniture as a way of bringing the whole family together. The ideal space to sit back and relax after a long day, sink into our rattan garden furniture suites for a moment of pure bliss. Designed with comfort and quality in mind, our products will instantly elevate the look and feel of your outdoor space.
Resistant to changes in temperature, our rattan garden furniture can be left outside as it is resistant to winds and light rain. However, should you ever need to move our rattan garden furniture, is it extremely lightweight, making it easy to manoeuvre to another part of your garden. Every component and feature in our products are carefully considered to provide the best levels of comfort.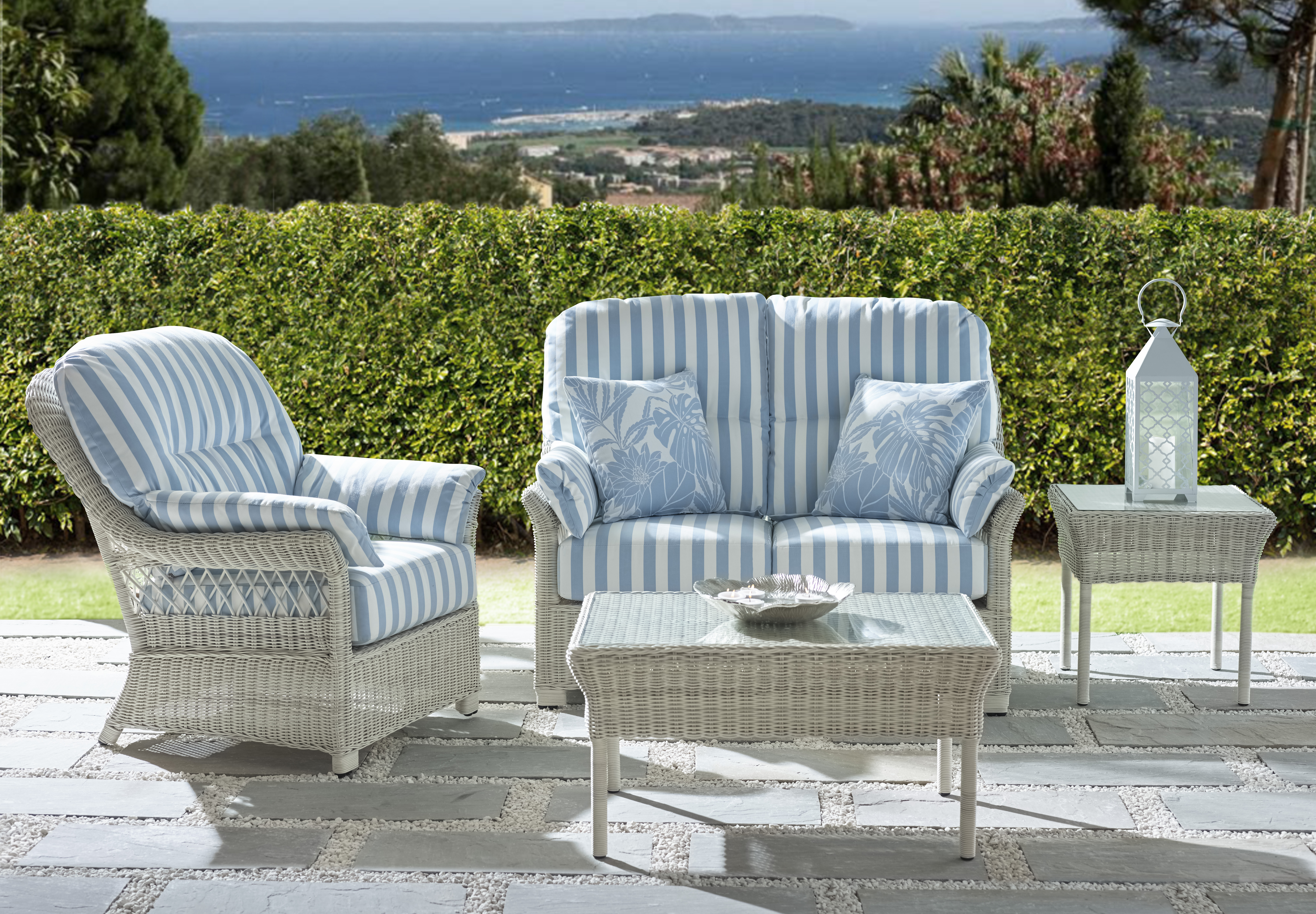 Rattan Garden Furniture Benefits
Never Fades
The fantastic thing about our rattan garden furniture is that it never fades in direct sunlight. This is because the materials that we use are UV resistant, meaning they can be left outside in the summer months without the fear that the rattan will be compromised in some way. Rarely needing to ever be replaced, our rattan garden furniture suites will breathe new life into your Bristol property.
Lightweight
Lightweight yet durable, our rattan garden furniture suites are easy to move around if need be. Supported by strong bases, our quality products will never begin to absorb excess amounts of water or crack in high temperatures. Consequently, you can be reassured in the knowledge our sofas, armchairs and coffee tables will keep their shape and structure in a variety of changing conditions.
Customisable
Customise your new rattan garden furniture suite with our range of plain and patterned upholstery options. Simple and stylish in design, they will add a new dimension to your chosen rattan garden furniture suite. We provide our Bristol customers with a vast number of options to choose from, making it easier for you to match your new purchase to some of the existing aspects of your space.
Non-Porous
The rattan garden furniture we sell is non-porous, meaning it won't begin to absorb excess water in rainy conditions. As a result, it can be left outside in light rain, without the fear your suite will begin to lose its shape. The weaved rattan parts create a durable barrier against the elements, unlike cheaper plastic alternatives that quickly begin to deteriorate once they have been left outside.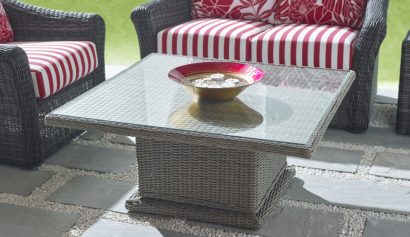 Rio
As our leading range of rattan garden furniture, the Rio suite is durable and hardwearing. A modern addition to any Bristol home, it can be completely customised with our selection of upholstery elements. Choose from our range of beautiful cushion covers in our showroom.
Our rattan garden furniture is both stunning and practical to ensure it gets the most use. Our coffee and side tables are topped with handy glass panels to ensure any spills don't make their way into the woven rattan itself. Our innovative solutions will change the way you host guests in your space.
Rattan Garden Furniture Prices Bristol
Create the ideal space to dine and relax in your Bristol home with our rattan garden furniture suites. Visit our showroom today to take a look at the various styles we offer.
Alternatively, complete our online contact form to be quickly put in touch with a member of the team. To talk with an expert directly, give us a ring on 01793 509203.