Cane Conservatory Furniture Newbury
Brighten your Newbury home with our modern cane conservatory furniture. It is both lightweight and durable, making it the perfect addition to any space. Easy to transport, it can be used both indoors and outside, meaning you can be flexible with how you use our products. Available in a huge range of styles and configurations, we guarantee you will find the ideal option for your property.
Cane conservatory furniture is both sustainably sourced and long wearing. An environmentally friendly alternative to other materials such as plastic, it will make a great addition to any Newbury home. Replace your old, tired suite with our modern cane conservatory furniture that will provide you with decades of ultimate comfort and relaxation. Sink into our stunning pieces.
Because of the durable, flexible nature of cane, it can be moulded into almost any shape. Tightly weaved to ensure it lasts, cane conservatory furniture will very rarely need repairing or replacing. Despite being practical and functional, our products never compromise on style, using soft lines and edges for beautiful results. We are able to offer premium products at affordable prices.
Contact Us
What Is Cane Conservatory Furniture?
Derived from the rattan plant, cane conservatory furniture is made up of strong weaved elements that are bound together to create the desired shape. Sourced sustainably and using all-natural materials, our innovative products will add a modern touch to your Newbury property. Forested and replanted, all the cane components we use in our furniture are organic and sustainable.
Versatile and hardwearing, our cane conservatory furniture will rarely show signs of wear. Lasting for years, whilst never compromising on style and functionality, our beautiful suites can be used by all members of the family. The innovative shapes we use in our sofas and corner suites mean the wings wrap around you, enveloping you in pure comfort. Sit back and enjoy total relaxation.
Lasting for decades, our cane conservatory furniture fuses timeless design and functionality for outstanding results. Looking to upgrade your Newbury home but don't know where to start? Invest in our beautifully cane conservatory furniture that will instantly bring a space together. It's never been easier to transform your property than with our range of stunning furniture designs.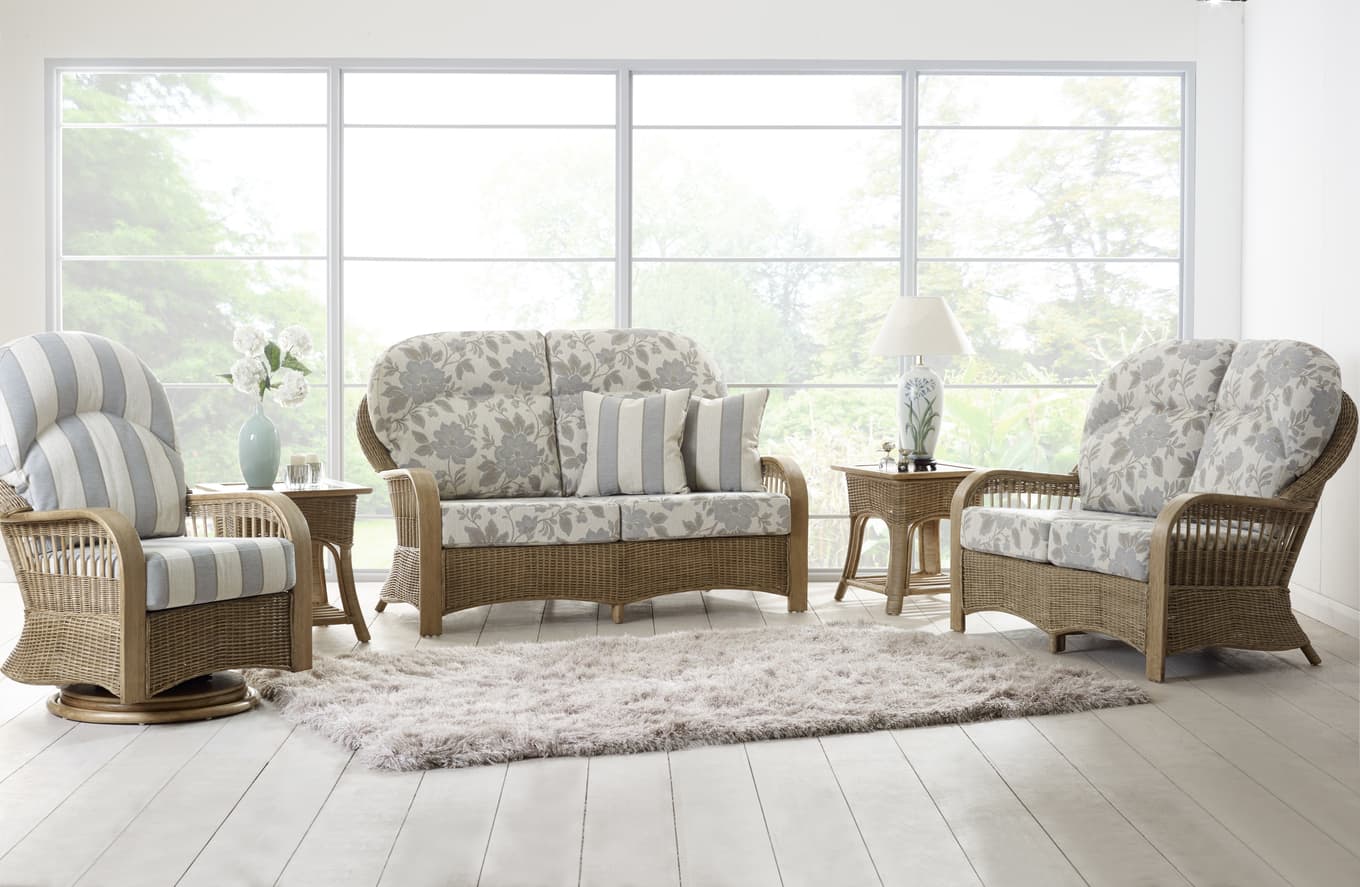 Cane Conservatory Furniture Benefits
Customisable
To suit the style of your Newbury home, choose from our extensive range of coloured upholstery. From patterned to floral, we have all the options you need to make the finishing touches to your cane conservatory furniture suite. Match your new upholstery to some of the existing accents in your home with the help of our talented experts, who are always on hand to offer their advice.
Low Maintenance
The low maintenance nature of our cane conservatory furniture means it requires very little upkeep. Forget about arduous aftercare with our products that essentially look after themselves. In addition, they are extremely easy to keep clean, only occasionally requiring a spray with water to make sure the cane remains in the best condition. We make sure every aspect of our products is simple.
Never Fades
Choose our cane conservatory furniture for your home as it is incredibly hardwearing. We understand conservatories are often prone to overheating; that's why we make sure our products are resistant to harmful UV rays. Consequently, they will rarely show signs of wear, never fading or tarnishing when in contact with direct sunlight. They will continue to look as good as new for years.
Versatile
With a range of over 30 beautiful suites to choose from, we guarantee you will be able to find the perfect fit for your Newbury home. Using soft curves and edges, our modern cane conservatory furniture exudes luxury and style, all for an extremely affordable cost. This means everyone is able to benefit from our designs, built using the finest materials and traditional techniques.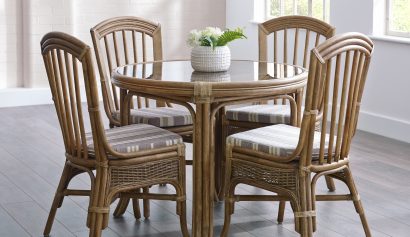 Dining
Create an elegant feature in your Newbury home with our cane conservatory furniture dining sets. The Bari dining collection encompasses class with its tempered glass top and bound cane elements. Completed with our upholstered cushions, it is a must have for any home.
Compact and lightweight, our dining sets are easy to transport and manoeuvre. However, once placed, our tables remain grounded, bearing weight evenly through their four legs. This makes our cane conservatory furniture incredibly stable, never tipping or leaning more to one side.
Cane Conservatory Furniture Prices Newbury
Transform your Newbury home with our selection of cane conservatory furniture suites. We have an extensive range of styles and configurations to choose from; you will be lost for choice.
If you have any further questions about any of the products we sell, please complete our online contact form to be put in touch with an expert. Alternatively, give us a ring on 01793 509203.