Cane Conservatory Furniture Bristol
Add a stylish cane conservatory furniture suite into your Bristol home. All our furniture is available in a number of styles and sizes to suit the look of your space. Create a more inviting environment with our cane tables and chairs that are perfect for relaxing or hosting. Add charm to your home with our products that are made from organic, sustainable materials.
As experts in cane conservatory furniture, we can offer our Bristol customers premium quality products at affordable prices. This gives everyone the opportunity to modernise their space, creating a stylish statement that will look great for decades. Our low maintenance furniture is ideal for use both indoors and outside, allowing you to make the most out of your pieces whatever the weather.
The interwoven mesh structure of our suites is what makes them so durable. The robust cane material will rarely show signs of wear and requires very little upkeep. To ensure your table and chair sets continue to look in the best condition, occasionally lightly spray them with some water. This will remove any dust, keeping the exterior clean and fresh. Our products are designed to be low maintenance.
Contact Us
What Is Cane Conservatory Furniture?
Cane conservatory furniture is derived from the rattan plant. It is made from entirely natural materials, making it a far more environmentally friendly option than other plastic alternatives. Make cane conservatory furniture the next addition in your Bristol home; it is guaranteed to brighten your space. Choose from our extensive range of suite styles and upholstery options.
Because of the versatile nature of cane, it can be moulded into almost any shape. That's how we are able to create such smooth lines with this material. Our modern suites radiate sophistication due to their curved edges and natural finishes. Available in both light and dark cane options, our conservatory furniture is accessible to almost all Bristol homeowners.
We have a range of cane furniture suitable for both indoor and outdoor use. Our outdoor Rio range is particularly hardwearing and non-porous, preventing water from becoming absorbed into the frame structure. As a result, you will not have to deal with rotting issues as our pieces are made to withstand wind and rain. Our Rio products can be left outside throughout the year.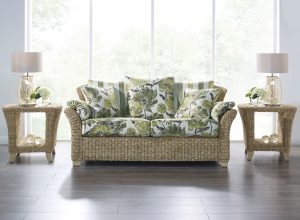 Cane Conservatory Furniture Benefits
Customisable
Match your new cane conservatory furniture to existing aspects of your Bristol home. We have an extensive range of colourways and upholstery fabrics to choose from; we guarantee you will be able to find something you love. Our helpful team of design experts are able to guide you through the whole process, providing you with a plethora of options to suit your space.
Long Lasting
Unlike plastic furniture that will often snap or fade, cane has the ability to last for years. As a natural material, it is resistant to most conditions meaning you are provided with decades of style and comfort. It's never been easier to transform your Bristol property with our affordable products that are manufactured with longevity in mind. Our furniture will rarely show signs of wear.
UV Protection
Even in direct sunlight, our cane conservatory furniture will not fade or bleach. The durable materials in our suites mean they are perfect for use inside and out. Glass conservatories are often prone to extreme changes in temperature and light. Our innovative products are resistant to this constant fluctuation, as they continue to look good whatever the season.
Versatile
With over 30 cane conservatory suites to choose from, we have a range of styles to complement any space. Cane is continually dominating interior design trends, proving a popular way of modernising a living environment. Make the most of both your conservatory and your garden with our versatile products that are long lasting and functional.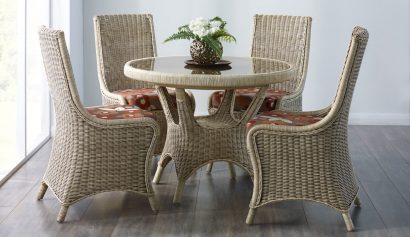 Dining and Kitchen
Our cane conservatory furniture is the perfect addition to any dining space. Our Amalfi range is the ideal feature in a kitchen or dining room due to its robust nature and easy to keep clean glass top. Available in a number of table configurations, this range can fit all the family.
The Amalfi range can be customised with our selection of coloured and patterned upholstery fabrics. Make your new suite your own with our customisable elements and changeable cushion covers. Our fabrics are suitable for use outside, providing your chairs with further protection.
Cane Conservatory Furniture Prices Bristol
Transform your Bristol property with our stylish cane conservatory furniture. It is available in a huge range of styles and sizes.
To find out more about our suites, fill in our online contact form. Someone will get back to you as soon as possible. Alternatively, call us on 01793 509203 to speak with one of our experts directly.